Welcome to Bhagwan Aadinath College of Education
Bhagwan Aadinath College of Education aims to being a marvelous change in the field of teacher education. Active, smart, well equipped teachers enriched with knowledge of all modern teaching techniques are going to be the product of Bhagwan Aadinath College of Education.
The College is situated amongst agricultural fields, in a serene and inspiring environment. The fresh air and surroundings make studying a refreshing experience. There is no traffic, air and sound pollution, creating a perfect ambience for academic excellence. Inside, the building is always clean and tidy, giving the students ample space to move around freely. The College has an amiable Administrative staff, who are always willing to help students in every manner. The College maintains discipline in totality. The Institute has a very close relationship with the Practice Teaching School. Since the College has very good relationship with these schools, the students get a good response everywhere. The school teachers are also very happy with the students of this college. The college has arrangements for a bus and van to assist staff and students with their commutes to the city.
Bhagwan Aadinath College of Education is also recognized/affiliated for Degree Programmes  such as Bachelor of Arts, Bachelor of  Science and Bachelor of Commerce along with teacher education programmes.
Vision
To transform rural talent into professional graduates.
Mission 
To impart value-based quality education.
To provide education for both social and personal transformation.
To provide economically poor students best in class education.
Objectives 
To develop research facilities in Teacher Education.
To find out ways and means to identify innovative courses in Teacher Education.
To institute degrees and other academic distinction in Teacher Education approved by NCTE.
To promote quality in Teacher Education and to standardize the system of operation.
To promote an awareness and understanding of the social needs of the country in the students and teachers and prepare them for fulfilling such needs.
Chairman's Message
It is firmly believed that the quality of teachers in educational institutions determines the eventual quality of education. The role of colleges of education in preparing high quality teachers i.e., therefore, imperative. The teacher for the 21st century should have the ability to ensure cognitive and effective development of the students and create in them a value system which is a mixture of time tested values, nationalistic and secular traditions and scientific temper. It is an ardors task and cannot be completed without high quality teacher educators which is therefore the need of the hour.
It is gratifying to note that the Aadinath College of Education has undertaken to develop multifarious skills among the trainee teachers as well as the teacher educators. The college has taken notable strides in the direction of empowering stake holders in the use of ICTs and sharpening their communicative skills. With inclusive education in mind, the preparing of teachers for treating children with special needs has become a well regulated programme in the college. Side by side, emphasis teaching effectiveness are going hand in hand. I have not the slighter doubt that the college will continue to play its leading role in the above areas. The launch of the college website would go a long way in highlighting its multi-dimensional activities and achievements.
My best wishes to principal, teachers, staffs and students for doing a commendable task.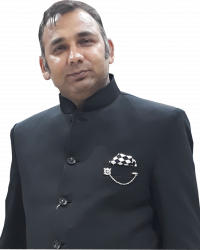 Principal Message
I am pleased to convey that the quality of education is the basic of Morden times. Your journey has moulded you for your greater good, and it was exactly what it needed to be…It took each and every situation you have encountered to bring you to the now. And, now is right on time…"
We continue our ascent towards success by asking more of ourselves today, tomorrow and forever. Accepting as true, Henry Ford's words: "Life begins with one step outside of your comfort zone".
The Bhagwan Aadinath College of Education's motto 'Soaring High is My Nature' is deeply embedded in the hearts of our students as they move ahead to win more accolades.
We believe we are the best college across Bundelkhand region for Teaching, Leaning process & Infrastructure and other facilities. I invite all the parents and students to be the part of our great vision for quality education.